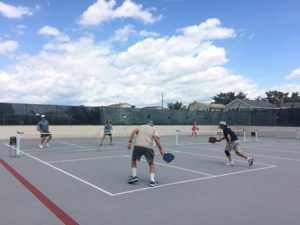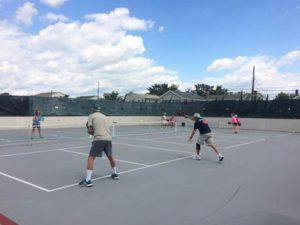 Pickleball
2020 Beach Haven Pickleball
  LBI's Most Popular Pickleball Center

  America's Fastest Growing Sport

Come, Learn, Play, Compete and make new friends
Exercise and have fun

Attendants present for organized play every day except Wednesday.

Courts are open for 8:00 am to 1:00 pm.

Lessons for beginners (12 years and older).  Lesson fee includes paddle use.  $5 per person.

Seasonal Passes $50. Daily passes $3.  Weekly passes $10

Active Military and Veterans play for free.  Bring retirement card/document to Pickleball Shack.  Veterans must sign in each day.
Rules of Play
All players will sign in with the attendant providing name, season pass #, or request/purchase a daily, weekly, or seasonal pass.

Sneakers/court shoes are required.  Sandals/flip flops are prohibited.

Players must provide their own balls and paddles. (a limited # of paddles are available for lessons).

Group play is limited to players 12 years and older. Any player under the age of 14 must be accompanied by an adult.

The first playing session will be from 8:00 am to 10:00 am.  The first 48 players to sign in will be playing in that session.  The second playing session will be from 10:00 am to noon.  48 players will be allowed to play in this session.  If open spaces exist, players from the first session can re-sign-in to play the second session after 10:15 am.

Dry erase boards will be used to assign players to courts.  ATTENDANTS ONLY will enter names – in an open block – on the board.  Once players are on the courts, their names will be erased.  When that game ends, they must request attendant enter their name on the next available open block.  NO PLAYER WILL ENTER/ERASE/CHANGE ANY ENTRY ON THE BOARD.
Attendants will make every effort to group beginner players with other beginner players.

If a block has less than 4 players assigned, the next available player(s) not playing will be entered into that block to complete that playing group.

**** TEMPORARY CHANGES DUE TO COVID-19****
DUE TO THE COVID 19 (CORONAVIRUS) AND SOCIAL DISTANCING GUIDELINES, THERE WILL BE TWO PLAYING BLOCKS – 8:00 AM TO 10:00 AM AND 10:00 AM TO NOON.  A LIMIT OF 36 PLAYERS WILL BE ALLOWED TO PLAY IN EACH SESSION.  THE FIRST 36 PLAYERS SIGNING IN WILL PLAY FROM 8:00  AM TO 10:00 AM, THE COURTS WILL BE CLEARED, AND THEN THE NEXT 36 PLAYERS TO SIGN IN WILL PLAY.  IF THE SECOND SESSION HAS SPACES AVAILABLE AFTER 10:15 a.m., PLAYERS FROM THE FIRST SESSION WILL BE ALLOWED TO FILL THOSE SPACES.

PLAYERS WILL LINE UP AT THE SHACK-SIDE COURT ENTRANCE TO SIGN IN.  SOCIAL DISTANCING WILL BE REQUIRED.  PLAYERS WAITING TO ENTER ANY GAME MUST ALSO KEEP THEIR SOCIAL DISTANCE FROM EACH OTHER.

PLAYERS MUST KEEP THEIR OWN PADDLES AND BALLS – ATTENDANTS WILL NOT TOUCH PADDLES.

THESE RULES MAY BE ADJUSTED AS THE BOROUGH ADJUSTS TO COVID-19 AND HEALTH GUIDANCE.
Courteous play, adherence to the rules, and good sportsmanship are required from all players.  Violators will be requested to leave the premises.
THANK YOU