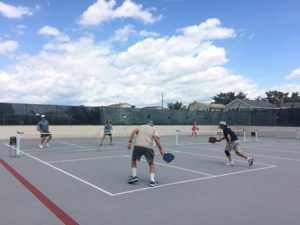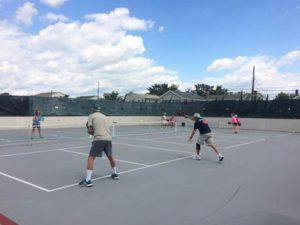 Pickleball
Pickleball Attendants Shack: 609-492-1474
2020 Beach Haven Pickleball
Courts are open from 8:00am until 1:00pm
  LBI's Most Popular Pickleball Center

  America's Fastest Growing Sport

Come, Learn, Play, Exercise, Compete, Make New Friends

Attendants present for organized play every day except Wednesday

Lessons for beginners (12 years and older), $5 per person (lesson fee includes paddle use)

Seasonal Passes $50. Daily passes $3.  Weekly passes $10

Active Military and Veterans play for free.  Bring retirement card/document to Pickleball Shack.  Veterans must sign in each day.
You May Purchase Seasonal Badges at the courts on Nelson Avenue
Rules of Play
All players will sign in with the attendant providing name, season pass #, or request/purchase a daily, weekly, or seasonal pass.

Sneakers/court shoes are required.  Sandals/flip flops are prohibited.

Players must provide their own balls and paddles. (a limited # of paddles are available for lessons).

Group play is limited to players 12 years and older. Any player under the age of 14 must be accompanied by an adult.

The first playing session will be from 8:00 am to 10:00 am.  The first 48 players to sign in will be playing in that session.  The second playing session will be from 10:00 am to noon.  48 players will be allowed to play in this session.  If open spaces exist, players from the first session can re-sign-in to play the second session after 10:15 am.

Dry erase boards will be used to assign players to courts.  ATTENDANTS ONLY will enter names – in an open block – on the board.  Once players are on the courts, their names will be erased.  When that game ends, they must request attendant enter their name on the next available open block.  NO PLAYER WILL ENTER/ERASE/CHANGE ANY ENTRY ON THE BOARD.
Attendants will make every effort to group beginner players with other beginner players.

If a block has less than 4 players assigned, the next available player(s) not playing will be entered into that block to complete that playing group.

**** TEMPORARY CHANGES DUE TO COVID-19****
Pickleball Courts COVID Guidelines

The sign in process will be controlled to prevent players hovering around the shack.   This will entail organization of the sign in line, at the complex gate entrance, to ensure that people keep their distance and maintain their spot in line.
Players should not touch fences, gates, nets, etc.
All players are expected to wear masks when interacting with Borough employees.
All employees will wear masks and utilize hand sanitizer as needed to handle money, interact with players etc.
The complex will be limited to the appropriate number of players permitted by CDC recommendations at the time. There will be 2 playing sessions.  8 – 10 am and 10 am – Noon.
Group size counts should include players and staff, and account for transition periods between sessions.
Consider playing singles only and avoid doubles play as doubles is not conducive for six-foot social distancing and leads to incidental contact with playing partners.
If you do elect to play doubles, consider playing with only those who reside within your household.
The first group of players signing in, will play the first session.  The second group of players, will be told when to come back for the next session, in order to limit players from congregating outside of the courts. There will be players in both sessions who are not playing in every round of play. They will wait on the benches inside the fencing but remain at least 6 feet apart.
Avoid changing ends of the court.
Maintain proper social distancing from other players in between games and during time outs.
Use your paddle and foot to pick up pickleballs and transfer them to your opponent. If utilizing a raised net, hit the ball under the net to your opponent.
After 2 hours, a whistle will be blown to clear the courts.  When the first group of players leave, the next group will be admitted.  After a grace period, if there is still room to add players, any players from first session wanting to play more, will be admitted to fill that number.
ALL players should wear gloves on their non-paddle hand to help reduce ball contamination.  Players should provide/wear their own gloves cloth or latex.
Balls are provided by players.  The Borough will provide a bucket with bleach and water solution so players can wipe down balls before and after the games.
No post-match handshakes or high fives.

Players may not socialize in large groups.   No players will be allowed to congregate before or after their sessions.
PLAYERS MUST KEEP THEIR OWN PADDLES AND BALLS – ATTENDANTS WILL NOT TOUCH PADDLES.
THESE RULES MAY BE ADJUSTED AS THE BOROUGH ADJUSTS TO COVID-19 AND HEALTH GUIDANCE.
Courteous play, adherence to the rules, and good sportsmanship are required from all players.  Violators will be requested to leave the premises.
THANK YOU