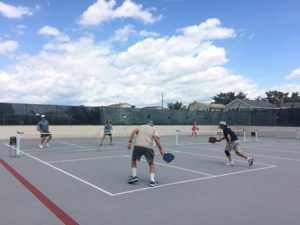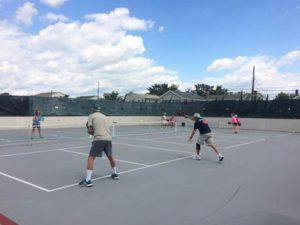 Pickleball
Pickleball Courts are located at the Nelson Avenue Park
  LBI's Premier Pickleball Center with 6 Courts

  America's Fastest Growing Sport

Attendants will be present to supply a limited number of paddles during GROUP PLAY HOURS ONLY.

OUR NETS WILL STAY UP THIS YEAR FOR OPEN PLAY (Open play is when group play is not in session)

Instruction on the BEGINNER COURTS: Monday 11:00 AM (12 years and older)

GROUP PLAY MORNINGS: Monday, Tuesday, Thursday, Friday and Saturday 8:00 – 12:00 AM

Pickleball Passes: Daily $3.00  Weekly $10.00  Season $50.00

NO COST TO VETERANS WITH ID FOR GROUP PLAY
Rules of Play
All players will sign in when they come to play, listing their name, season badge number and/or request a daily pass.

Learn the Game, Play the Game,

   Sneakers and a Smile, the only Equipment Required

Paddles (if needed), and balls are available for use when attendant is present.

Group play is limited to players 12 years and older. Any player, under the age of 14 must be accompanied by an adult.

The courts will be identified for the skill level of the players e.g. 2 courts for beginners, 2 courts for intermediate and 2 courts for advanced players.

At the end of each court will be a tray for players to deposit their paddles.

All games will be played to 11 points. In the event there are more than 60 players signed in to play, the games will be played to 9 points.

At the end of every game all four players leave their court and redeposit their (borrowed) paddles at the top of the tray at the court where they next want to play and await their turn to play again.

The courts will be available for OPEN PLAY when GROUP PLAY is not in session.

Courteous play and adherence to the rules are required from all players with violators being requested to leave the premises.
Any player wanting to be notified of upcoming pickleball activities should provide the attendant with their e mail address.
THANK YOU