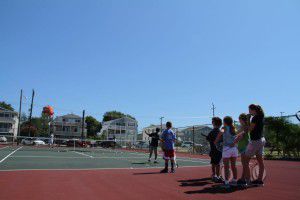 Tennis Courts are located between Pearl Street and Ocean Avenue
Tennis Passes are available from the attendant at the tennis courts.
Hours of Operation: 7 am to 3 pm daily
                                                            After 3pm the courts are open for free play
Passes are Available Memorial Day weekend and then everyday from June 15th to September 15th.
Tennis Passes
You may Pre-Purchase your tennis pass through our MOBILE APP! For more information CLICK HERE
Please go to the Tennis Shack on Pearl Street to purchase your passes in person
Pre-Seasonal Adult Passes: $80.00
Adult Seasonal Passes: $90.00
Weekly: $30.00 per person
Daily Pass: $7.00
Youths are considered ages 8-15
Children 7 & under: Free
Pre-Seasonal Youth Passes: $40.00
Youth Seasonal Passes: $50.00
Children 7 & under: Free
Active Military and his/her family is eligible for free passes for all permitted activities in Beach Haven. Veterans are eligible for his or her own seasonal pass for all permitted activities. To receive these passes please go to the Beach Badge Office on Centre Street. Their Hours are 10am-4pm Mon-Sat. 10pm-3pm on Sunday.