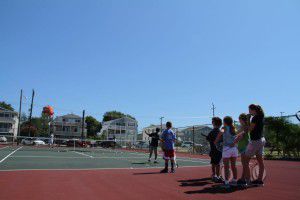 Tennis Shack: 609-492-1381
Tennis Courts are located between Pearl Street and Ocean Avenue
Tennis Passes are available from the attendant at the tennis courts.
Hours of Operation: 7 am to Noon daily
                                                            After noon the courts are open for free play
Passes are Available Memorial Day weekend and then from June 15th to September 15th.
TENNIS COVID GUIDELINES
The sign in process will be controlled to prevent players hovering around the shack.   This will entail organization of the sign in line, to ensure that people keep their distance and maintain their spot in line.
Players should not touch fences, gates, nets, etc.
All players are expected to wear masks when interacting with Borough employees.
All employees will wear masks and utilize hand sanitizer as needed to handle money, interact with players etc.
Consider playing singles only and avoid doubles play as doubles is not conducive for six-foot social distancing and leads to incidental contact with playing partners.
If you do elect to play doubles, consider playing with only those who reside within your household.
Avoid changing ends of the court.
Maintain proper social distancing from other players in between games and during time outs.
Use your racket and foot to pick up balls and transfer them to your opponent. If able, hit the ball under the net to your opponent.
If a ball from another court comes to you, send it back with a kick or with your racquet.
Use 4 or 6 balls instead of 3, to ensure that the server only touches the ball from their own can.
Use a new racket grip every time you play.
Wipe down & disinfect rackets & equipment after use.
Players may not socialize in large groups.   No players will be allowed to congregate before or after their sessions.
Tennis Passes
You may pre-purchase your tennis pass at a discounted rate at the Borough Hall, 300 Engleside Ave., Beach Haven until June 15th.
Beginning June 15th please go to the Tennis Shack on Pearl Street to purchase your passes in person
Pre-Seasonal Adult Passes: $80.00
Adult Seasonal Passes: $90.00
Weekly: $30.00 per person
Daily Pass: $7.00
Youths are considered ages 8-15
Children 7 & under: Free
Pre-Seasonal Youth Passes: $40.00
Youth Seasonal Passes: $50.00
Children 7 & under: Free
Active Military and his/her family is eligible for free passes for all permitted activities in Beach Haven. Veterans are eligible for his or her own seasonal pass for all permitted activities. To receive these passes please go to the Beach Badge Office on Centre Street. Their hours are 10am-4pm Mon-Sat. 10pm-3pm on Sunday.