Beach Information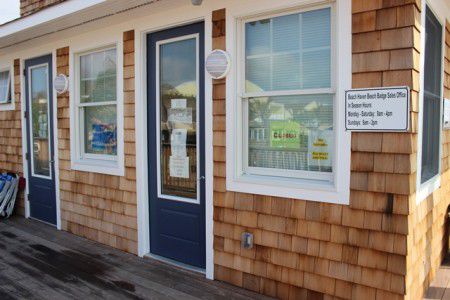 Centre Street Badge Office
Located on Centre Street
The Beach Badge Office is Closed until Spring of 2019!
Our Seasonal Holiday Badge was designed by a 6th Grade Student from Beach Haven Elementary School!
Use a link below or come into the Clerk's Office to purchase badges
2019 Holiday Badges are on sale now and area available for pickup!
You must have your receipt to pick up your badge
Mail, using this form: MAIL IN FORM
Credit card CLICK HERE
Mobile App CLICK HER
Holiday Badges are $30.00
at Badge office on Centre St or From a checker on the beach or our mobile app. (logo)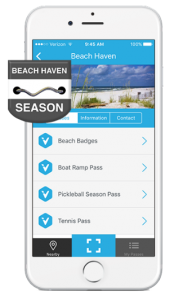 Weekly Badges $20.00
Daily Badges $5.00
Senior Badges & Children 12 & under are FREE!
Adults 65 & over must provide proof of age at the Beach Badge office located at 2 Centre Street in order to obtain a free permanent Badge. If the badge needs to be replaced, there will be a $10 charge.
Make sure you keep the permanent badge once you get it!
IN SEASON Hours of Operation
Monday -Friday 10 am – 4 pm
Saturday 10 am – 4 pm
Sunday 10 am – 3 pm
#609-492-9193
Bring your pick-up slip for pre-season orders.
Purchase pre-season badges until June 15th.
Purchase seasonal badges beginning June 16th.
Register to receive a Senior Badge (must be 65 years or older).
List of Guarded Beaches: Lifeguards are on duty between the hours of 10 AM to 5 PM
THERE ARE NO LIFEGUARDS ON DUTY UNTIL JUNE!
12th Street
Taylor Ave
5th Street
2nd Street
Centre Street
Engleside Ave
Pearl Street
Belvoir Ave
Essex Ave
Between Liberty & Pelham Ave
Between Kentford & Leeward Ave
Conduct on the Beach
No Smoking of any kind on Beach Haven beaches.
Dogs
Dogs are permitted on the beach ONLY from September 16th until May 14th. Any other time is prohibited. If your dog poops you scoop, it's the law!
Volleyball Courts
NEW!  There is a public volleyball court located between 3rd Street and 4th Street on the beach.
Ball playing on the Beach
Ball playing, ball throwing, quoits, horseshoes and like activities will be permitted at the discretion of the Lifeguard Captain, Chief of Police or their designees (ie lifeguards on duty). These activities are prohibited from 10 am to 5 pm in areas between flags placed to designate authorized swimming areas. These activities are also banned from dune area at all times. * Throwing any object which may endanger or be likely to endanger persons or property is prohibited on the beach, dune area, pavilions, walkways or access ways to any pavilions or beaches within the Borough of Beach Haven.
Kite & Drone Flying on the Beach
Kite flying will be permitted on the beach only before 10 am and after 5 pm. This activity is banned from the dune area at all times.
Horseback Riding on the Beach
Horseback riding is prohibited at all times on the beach, sand or dune area.
Food & Beverages on the Beach
Food and drinks are allowed on the beach, but please help keep our beaches clean by throwing out your trash in the designated receptacles. UNDER NO CIRCUMSTANCES ARE ALCOHOLIC BEVERAGES & OPEN CONTAINERS OF THE LIKE PERMITTED ON THE BEACHES.
These restrictions will be in effect from June 15th until Labor Day, inclusive.
IT IS ILLEGAL FOR ANY PERSON TO WALK ON OR DISTURB ANY DUNE AREA IN THE BOROUGH OF BEACH HAVEN.